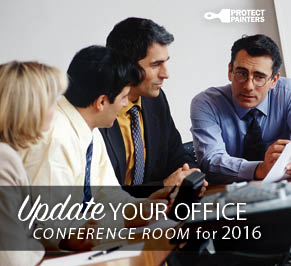 The office conference room of an organization may be one of the most important spaces for the company. It is where managers and company leaders give presentations and schedule important meetings with business partners and clients. For an upstart organization, an elegant conference room can make a positive first impression. Why not take advantage of the plan to freshen up the space to use it to promote collaboration and team building?
Along with the selection of appropriate and comfortable furnishings, innovative technology and a well-thought out commercial painting project can help the organization accomplish its objectives.
Meeting Room Technology
Many companies understand the importance of investing in technologically advanced workstation, which increases their employees' efficiency and productivity. Extend the same approach to the office conference room to make the workspace more functional. EffectiveMeetings.com makes the following recommendations for creating a modern office conference room:
Computers: A network computer that allow participants to access their files.
Projector: Data/digital projector, which displays computer applications, presentations spreadsheets, etc.
Interactive Whiteboards: Whiteboards lined to a computer and projector to enable interaction with computer-based data.
Conferencing: For companies with multiple geographical locations, conferencing equipment allows the organization to meet regularly and exchange data, text and images in real time.
Room-Control System: Facilitates the control of a variety of electronic equipment, from a central location.
For organizations that plan to continue using standard whiteboards, incorporate into your commercial painting project the cost of having portions of the walls painted with chalkboard or dry erase paint. This allows your employees to express themselves and share their ideas with multiple colors and textures to get creative juices flowing.
Select the Right Colors
Business experts have long studied the psychological effects that colors have on employees in the workplace, from calmness and energy, to creativity and productivity. Look at how you can use your commercial painting budget to have maximum impact on customers, clients, and other stakeholders.
Yellow — Yellow fuels mental activities and muscle energy, and has an association with happiness, joy, intellect and energy. Do use yellow office paint color for the office conference room when looking to create a serious or prestigious image, offer for sale expensive products or services or gain an advantage in discussions.
Red — Red symbolizes emotional intensity, fire, energy, war, strength, power, passion, desire, love, and determination. To stimulate people to make quick decisions or leave the meeting with a to-do list, consider using the color red on an accent wall in the conference room. Do not use red if you wish to avoid heated discussion.
Orange — The color orange also has an association with fascination, happiness creativity success, determination, encouragement, stimulation, and the sensation of heat. An organization that holds many meetings that require high-level mental engagement or desire to promote teamwork may want to consider this color.
Green — Green has a strong affinity with nature and signifies harmony, safety, endurance, stability growth, and freshness. Green office paint color for the conference room will create a peaceful backdrop for the discussion of difficult topics or generate honest conversation and feedback.
Blue — Blue elicit feelings of loyalty, trust, confidence wisdom, intelligence, faith, and truth. It slows down the metabolism and produces a calming tranquil. When using the space to meet with vendors or to contemplate "big sky" questions or an organization's mission, paint the walls blue.
Purple — Purple symbolizes royalty, power, ambition, wealth, independence, creativity, and mystery. Purple office paint color provides a great space for thinking "outside the box" or impressing clients.
A great office conference room needs to look and feel comfortable for the people using or visiting the space. Get this project right and it will help make employees more productive, while also becoming a magnet for attracting new clients.